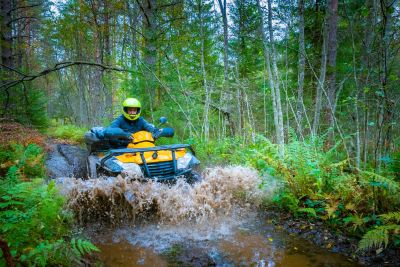 ATV & Off-Road Vehicle Insurance. Quality Coverage At Great Rates.
Why You Need ATV Insurance
Heading out on the trails is a great way to unwind, but are you protected in case something goes wrong? That's where ATV insurance comes into play. At Superior Insurance Services, Inc., we offer customized ATV insurance solutions tailored to your unique needs. Call us today at 972-325-2244 for more information.
Get a Quick Quote Or Provide Us With More Info
Types of ATV Insurance Coverage
Every rider is different, which is why we offer a variety of coverage options. Whether you're a casual rider or a frequent adventurer, we have a package that suits your needs.
Comprehensive
Comprehensive coverage takes care of any damages to your ATV that aren't collision-related, such as theft, vandalism, or fire.
Collision
Collision coverage ensures that any damages to your ATV due to a collision with another vehicle or object are covered.
Liability
If you're found legally responsible for damages or injuries, liability coverage will protect you from out-of-pocket expenses.
Typical Claims Covered
Having a strong ATV insurance policy can make a world of difference when an accident occurs. Typical claims that can be covered include:
Collision with another vehicle or ATV
Theft or vandalism
Injury to a third party
Property damage
Medical expenses
Cost Factors and Savings
Wondering about the cost? The pricing of your ATV insurance policy can depend on various factors, such as your riding history, age, and the type of ATV you own. Don't worry; our team at Superior Insurance Services, Inc. will help you find a policy that fits your budget. To get a quote, give us a call at 972-325-2244.
How to Apply
Getting started with ATV insurance is simple. You can call us at 972-325-2244, or if you prefer, you can fill out our online quote request form. Our experienced agents are always available to help you navigate your options and find the best fit for you.
ATV riding is all about enjoying the great outdoors and having an adventure. Make sure you're protected during your off-road journey. Contact Superior Insurance Services, Inc. for top-notch ATV insurance services in Texas. For more details or to get started, call us at 972-325-2244 or complete our online quote request form.