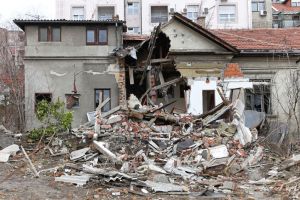 Texas Earthquake Insurance. Quality Coverage At Great Rates.
Why Earthquake Insurance is Essential
Living in Texas, we're no strangers to the rumble of the earth beneath our feet. While many homeowners believe their standard home insurance will cover earthquake damage, this is often not the case. That's where earthquake insurance from Superior Insurance Services, Inc. comes into play.
Did you know? Standard homeowner's insurance doesn't typically cover damages caused by earthquakes. To ensure you're covered, especially in a city like Texas, getting a dedicated earthquake insurance policy is crucial.
If you require personalized advice, call us at 972-325-2244, or click here -

What Does Earthquake Insurance Typically Cover?
Let's dive into some of the typical claims that can be covered by earthquake insurance:
Dwelling Coverage: This takes care of the costs to repair or rebuild your home if it's damaged or destroyed by an earthquake.
Personal Property Coverage: If your personal belongings like furniture, electronics, and clothing are damaged, this coverage helps replace them.
Additional Living Expenses: If your home becomes uninhabitable, this covers the costs for you to live elsewhere during repairs.
Exterior Structures: This covers other structures on your property, such as garages, sheds, and fences.
Benefits of Choosing Superior Insurance Services, Inc. for Earthquake Insurance

Comprehensive Coverage
We provide extensive coverage options that suit all your needs.

Affordable Plans
Get the best rates tailored for Texas residents.

Exceptional Support
Reach out to us at 972-325-2244 anytime.
Peace of Mind in Shaky Times
The last thing you want to worry about during an earthquake is whether your insurance will cover the damages. By selecting a dedicated earthquake insurance from Superior Insurance Services, Inc., you can rest easy. We've been serving Texas for years and understand the specific needs of our community.
If you have questions or need more details, don't hesitate to contact us at 972-325-2244. Our team is always here to help, ensuring you get the coverage you need.
Ready to Secure Your Home?
It's better to be safe than sorry. Ensure that your home and belongings are protected from unexpected earthquake damage. If you're ready to get started or simply want to learn more, we encourage you to reach out to Superior Insurance Services, Inc. at 972-325-2244.
In the digital age, we also offer an online quote request form for those who prefer an online approach. Whichever way you choose, know that we're committed to providing you with the best protection in Texas.