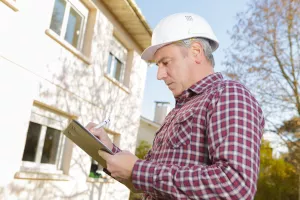 Professional Home Inspectors E & O in Texas:
We specialize in Professional Liability/Errors and Omissions (E&O) insurance as well as General Liability insurance for Home Inspectors in Texas, Texas at highly competitive rates. Complete an application, and we'll send you a quote as soon as possible. Questions? Give us a call at 972-325-2244.
As of September 1, 2007, TREC mandates that Home Inspectors in Texas must have professional liability insurance for license renewal. We offer coverage from A. M. Best rated 'A' companies with various limits and deductibles to suit your needs.
If you require personalized advice, call us at Plano or click here -

Coverage Limits and Deductibles
We provide the following limits:
$100,000 per Claim/$100,000 Aggregate
$100,000 per Claim/$300,000 Aggregate
$300,000 per Claim/$300,000 Aggregate
$500,000 per Claim/$500,000 Aggregate
$500,000 per Claim/$1,000,000 Aggregate
$1,000,000 per Claim/$1,000,000 Aggregate
Deductibles for most of our E&O policies are $1,000, $2,500, and $5,000. Higher limit policies have only $2,500 and $5,000 deductible options. Our General Liability deductible is fixed at $500.
Frequently Asked Questions
What are the minimum requirements to do inspections in Texas?

TREC requires $100,000 per claim and $100,000 aggregate in E&O insurance. General liability is not mandated by Texas.

What does 'per claim' and 'aggregate' mean?

'Per claim' is the coverage for any single claim, and 'aggregate' is the total coverage for the policy term (usually 1 year).

What does E&O insurance cover?

E&O insurance covers most liability issues arising from your inspection activities, excluding damage you may cause.

What does General Liability cover?

General Liability insurance covers damages you may cause to property or individuals during your inspection.

Do I need General Liability insurance?

It's optional but recommended, especially if you work with new construction sites or have specific requirements from real estate agents or builders.

Do you send the paperwork to TREC?

Yes, we facilitate the paperwork required by TREC to speed up your license acquisition or renewal process.

Can I finance my policy?

We offer financing options through Impact Finance. Contact us for more information.

How do I get started?

Fill out an application and we will send you a quote within 2 business days. Once you pay, you're all set.

What is the retroactive date?

This date is crucial for your coverage, especially when switching insurance providers. It's the date from which your continuous coverage begins.
For more information or to start your application process, contact us at 972-325-2244.